16.08.18  Firmenfeier, Luftseilbahn Adliswil
06.09.18  Kongress, ZHAW
06.10.18  Apero, Lillenberg Unternehmerforum
13.10.18  Privatfeier, Kartause Ittingen Warth
26.02.19  Firmenfeier, EF Zürich
14.03.19  Apero, EF Züirch
19.03.19  Ship christening, Viking Cruises Basel
27.03.19  Gala Dinner, Kornhauskeller Bern
02.06.19  Privatfeier, Schloss Heidegg Gelfingen
27.06.19  Fest Kuhn Schweiz AG Heimberg
28.06.19  Firmenfeier Bossard AG, Zug
30.06.19  Konzert-Gottesdienst, Junker Messe, Kath. Herz Jesu Kirche    Winterthur
06.07.19  Hochzeit, Villa St Charles Hall Meggen
07.07.19  Konzert-Gottesdienst und Fest, Oberfeld Kirche Winterthur
19.07.19  Hochzeit, Dresden – Heidenau
26-27.07.19  Drink Pure Festival & internationale Aphorn Wettbewerb Nendaz
01.08.19  1. Augustfeier, Irides AG Basel
01.08.19  FondationK. und F. Weikert-Widmer-Stiftung Blindheim, Basel
01.08.19  Fest Gerlisberg
17.08.19  Fest Vitznau
15.09.19  Konzert-Gottesdienst, Junker Messe, Oberfeld Kirche Winterthur
20.09.19 Wedding villa Meier-Severini, Zollikon
21.09.19  Festival Interculturel: About Us! St-Jakob Zenter Zürich : 17:00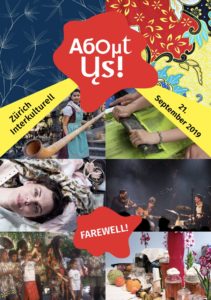 12.11.19 Bildungs Preis Zeremonie Business Fachhochschule Biel
9.01.20 Zürich: Privat Event
1.08.20 Verbier Festival Unlimited canceled (Covid-19)
Solo & other formations/projects: Horn & Alphorn & Jodel
21.04.19  Konzert-Gottesdienst mit Minako Matsuura, Kappel am Albis
15.05.19  Camerata Schweiz Brig
17.05.19  Camerata Schweiz Solothur
18.05.19  Camerata Schweiz Enge
09.06.19  Konzert-Gottesdienst, St-Johann Kirche Rapperswil
15.06.19  Recital mit Minako Matsuura, Palais Kraft Zürich
06.09.19  About US! Standbild
22.09.19  Konzert Horn & Alphorn & Jodel, Klavier & Orgel mit Masako Ohashi, Ref. Kirche Bassersdorf 17:00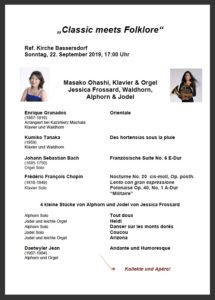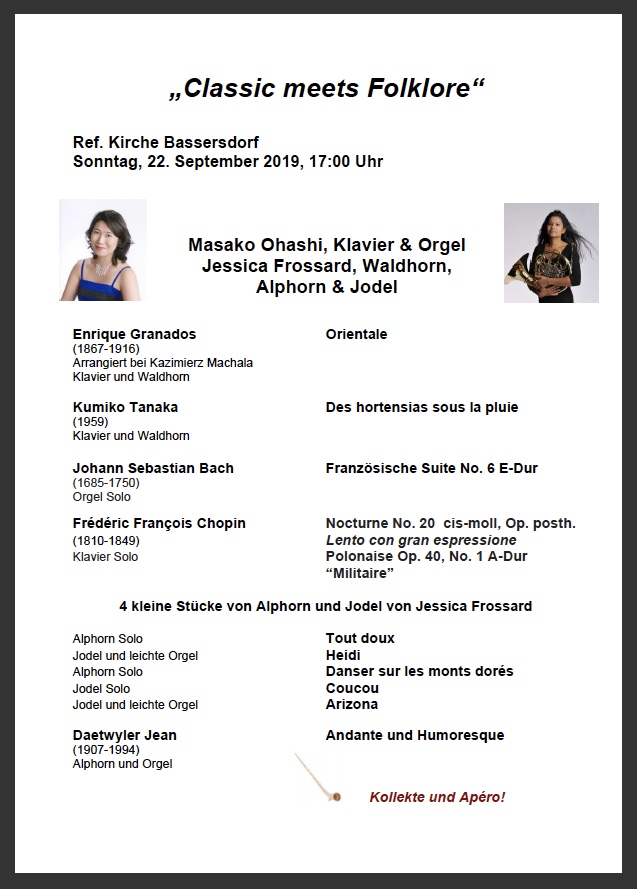 Here the souvenir of Bassersdorf concert arrangement with Chopin! Bravo Dear Masako! Thank you Jolanda for the recording😊

Publicada por Jessica Frossard en Jueves, 26 de septiembre de 2019
10.11.19 Camerata Schweiz Bern
24.11.19 Kaleodoskop Konzert Horn, Alphorn, Jodel & Klavier mit Minako Matsuura, Köniz (bei Bern)
21.12.19 Camerata Schweiz Zürich
22.12.19 Camerata Schweiz Bern
24.12.19 Weihnachten Gottesdienst Zürich
25.12.19 Weihnachten Gottesdienst Rapperswil
26.12.19 Camerata Schweiz Bern
31.12.19 SilvesterKonzert Rapperswil
5.01.20 Epiphanie Gottesdienst Rapperswil
2.02.20 Stummfilm Live Music orchestra : Der Rosenkavalier, Zürich Theater Rigiblick
1.03.20 Konzert Horn, Alphorn, Jodel & Klavier mit Masako Ohashi Zürich
5.03.20 Stummfilm Live Music orchestra : Wilhem Tell, Herrliberg
Die folgende Konzerte sind abgesagt: Covid-19
25.03.20 Stummfilm Live Music orchestra : Der Rosenkavalier, Zürich Theater Rigiblick
28.03.20 Stummfilm Live Music orchestra : Der Rosenkavalier, Zürich
1.04.20 Stummfilm Live Music orchestra : Der Rosenkavalier, Zürich
5.04.20 Konzert Horn, Alphorn, Jodel & Klavier, Orgel mit Masako Ohashi Winterthur
20.05.20 Stummfilm Live Music orchestra : Der Rosenkavalier, Zürich Theater Rigiblick
27.05.20 Stummfilm Live Music orchestra : Der Rosenkavalier, Zürich
24.06.20 Stummfilm Live Music orchestra : Der Rosenkavalier, Zollikon
COMING SOON
Other Concerts with Masako Ohashi, Minako Matsuura and Marie-Christine Pasche pianist and organist: 
Hybrid concerts: "classic meets folklore".
Konzerts mit Waldhorn, Orgel, Klavier, Alphorn & Jodel.
With Annette Cox (from the Alpine Sisters)
Concerts/shows: « Le cor dans tous ses états »
Konzerte/Spektakeln mit Waldhorn Klassik, Songs, Alphorn & Jodel and more!
With contemporary dance

Shows and performances
Videos and mini series

Goofy Folklore